Breww helps you streamline every step of your operations, so you can focus on brewing great beer.
Breww is the all-in-one solution
---
---
---
---
---
---
---
---
---
---
Cloud based (SaaS)
Always online and available from anywhere. You can even keep an eye on your business while on holiday (but don't tell your partner).
Instant online demo
Want to play around in Breww with some test data? No problem, you could be in a demo account in a few minutes from now. No payment details required. Try now.
30 day free trial
We know changing platforms can be daunting so everyone gets a fully functional 30 day free trial before there's any obligation to pay us anything. We want Breww to be right for you.
Monthly rolling contract
Simple & fair billing with no surprises. After your free trial you pay monthly in advance and can cancel at any time (and take your data with you, it's your data after all). You're not locked in and will never be stuck with Breww. Pricing is based on your beer production with no charges for users - so have as many as you like. See pricing.
Disaster recovery built in
Backups are never fun, but they're super important! With Breww, you don't need to worry about them ever again. We replicate your data instantly across multiple servers and take regular backups in case something does ever go wrong. We're much more resilient to disasters than most on-premise software can even dream of.
Regular updates & new features
Our subscription model means that we can continue to fund development and ensure Breww is improved every single day. You also always have access to the latest & greatest version. Choose Breww and you'll see new features & benefits being rolled out almost every week. See our latest updates.
Accountancy software integrations
Xero
Intuit QuickBooks
Sage Business Cloud
(previously Sage One)
Breww is tightly integrated with the major online accounting platforms. At no extra cost to you, we'll automatically sync your customers, invoices, credit notes & payments. Don't see your accountancy software above, get in touch and we'll discuss supporting it to help you move to Breww. We're working on supporting desktop-based accounting software packages very soon.
Breww can be integrated with a number of other platforms, including ecommerce platforms, POS applications, SIBA's Beerflex DDS and marketing platforms. See our integrations page for more details and all the options available to you.
Breww on the move…
Breww is as happy running in your phone's web browser as it is running on your desktop or tablet. Because the entire application runs through your web browser, we support all modern phones & tablets, Windows, macOS, Linux and more!
Breww is always up to date, there's nothing to sync between devices and we take care of installing updates safely behind the scenes for you.
Finally you can forget about your software hassles and concentrate on brewing the best beer around.
With our native app for Apple iOS & Android devices supporting built-in barcode scanning, you don't even need to buy a barcode scanner. Search your app store for "Breww"!
Get Started Now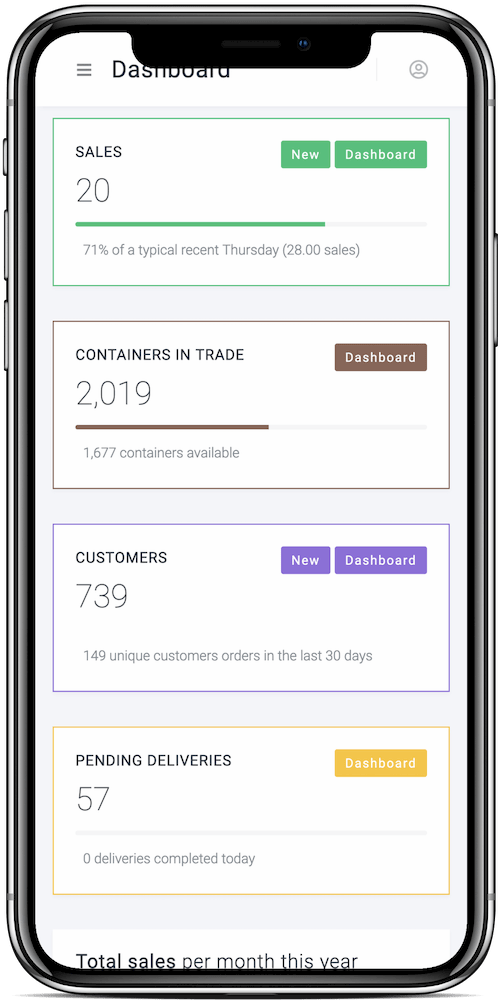 Want a taste? Join today.
What does Breww look like?
---
---
---
---
---
---
---
---
We've raised the bar. Take advantage today.
Here's a bit more of what Breww has in store for you
Inventory management
Supplier management
Inventory receipt entry system with costings, batch tracing (where applicable) and the ability to add as a draft until you're happy it's correct
View all stock items with quantities, unit of measures and filtering by type (ingredients, packaged beer, etc)
Manage ingredient recalls - find all containers and beer batches produced using a given ingredient batch code
Hop contract management
Beer production
Ingredient stock tracking with batch traceability
Recipe management
Pre-brew stock check (make sure you have enough of everything needed before starting a breww)
Vessel visualisation to show you all your mash tuns, fermenters, brite tanks, barrels, etc and how full they are right now
Production batch (gyle) tracking with temperature & gravity logging
Beer production flowchart - see exactly where your beer went during production, which ingredients were used when and how much beer was lost in each transfer
Batch/gyle label printing (compatible with A4 label sheets or thermal transfer label printers)
Batch costing calculations done for you
Planned brews with batch scheduling calendar showing the status of all vessels
Hop contract management
Packager management for tracking when you give your beer to a 3rd party to package for you
Brewing systems and vessel logging with overviews of which are empty (or which beer is in it currently)
Upload documents, photos and any other files (such as scans of paper brew sheets) to store securely against specific gyles
Sales & CRM (customer relationship management)
Customer account management
Customisable fields
Order and invoice management with filtering for drafts, unpaid, overdue, etc
Order to delivery, to beer batch traceability
Credit note and credit limit management
Telesales feature for tracking callbacks required, etc
Ullage & returns management
Price books allowing for custom pricing per customer or customer group
PDF order confirmation, invoice and credit notes
Order/credit note customisation with logo, bank payment details, etc
Email order confirmations/invoices/credit notes to customers
Individually customisable payment terms for customers
Simple but detailed overview per customer showing their previous purchases, batches received and any outstanding balance
Upload documents, photos and any other files to store securely against specific customers
Container & delivery tracking and management
Automatic route planning and delivery allocations with multiple vehicles, to keep your delivery drivers as efficient as possible
Driver manifests
Delivery notes
Proof of delivery signatures
Container type management allowing you to use the industry standards or your own bespoke containers
Manage both returnable and non-returnable containers with barcoded labels
View which containers are in trade and track their location in customer list view or map view
Guest beer tracking
Beer duty
Full UK beer duty return reporting with detailed breakdowns of the calculations involved
Beer duty calculations consider packagers (duty suspense or not)
Beer duty calculations consider sales invoices, deliveries and returns (ullage)
Advanced lost & spoiled record management
Reporting
Sales overview dashboard with revenues and top beer sales
Detailed reporting per beer with revenue and litres sold, with filters by dates and customers
Detailed sales reports
Report exporting to CSV
Accountancy software integrations
Automated syncing of customers, invoices, credit notes, payments and more with major accounting platforms
Xero integration (online)
Intuit QuickBooks integration (online)
Sage One integration (online)
Desktop based accounting software integrations coming soon
Others
User management - add other people, confirm which features they have access to and audit actions performed by them
Do you brew on behalf of other breweries? A single Breww user account can access multiple different breweries (by invite only) so you can go into the accounts of your individual breweries and record your beer production. All breweries need their own paid subscription.
Email management - manage the from address and body for invoice/credit note emails
Ability to send your own accountants a copy of all invoices/credit notes
Manage your Breww subscription securely online with automatic payments via credit or debit card (Visa, MasterCard or American Express)
Everything you see above is included in the one fixed price based on your beer production - none of these features cost you more
But that's not all… There's so much more to Breww than we can show here.
Hop on a demo today to see what else Breww has to offer.