Breww helps you streamline every step of your operations, so you can focus on brewing great beer.
Breww is the all-in-one solution
---
---
---
---
---
---
---
---
Cloud based (SaaS)
Always online and available from anywhere. You can even keep an eye on your business while on holiday (but don't tell your partner).
Instant online demo
Want to play around in Breww with some test data? No problem, you could be in a demo account in a few minutes from now. No payment details required. Try now.
30 day free trial
We know changing platforms can be daunting so everyone gets a fully functional 30 day free trial before there's any obligation to pay us anything. We want Breww to be right for you.
Monthly rolling contract
Simple & fair billing with no surprises. After your free trial you pay monthly in advance and can cancel at any time (and take your data with you, it's your data after all). You're not locked in and will never be stuck with Breww. Pricing is based on your beer production with no charges for users - so have as many as you like. See pricing.
Disaster recovery built in
Backups are never fun, but they're super important! With Breww, you don't need to worry about them ever again. We replicate your data instantly across multiple servers and take regular backups in case something does ever go wrong. We're much more resilient to disasters than most on-premise software can even dream of.
Regular updates & new features
Our subscription model means that we can continue to fund development and ensure Breww is improved every single day. You also always have access to the latest & greatest version. Choose Breww and you'll see new features & benefits being rolled out almost every week. See our latest updates.
Accountancy software integrations
Xero
Intuit QuickBooks
Sage Accounting
(PKA Sage One & Business Cloud)
Breww is closely integrated with all the major accounting platforms. At no extra cost to you, we'll automatically sync your customers, invoices, credit notes, payments & more. Please see our full list of accounting software integrations.
Ecommerce, POS, payment & other integrations
Breww can be integrated with a number of other platforms, including ecommerce/web-shop platforms, POS applications, SIBA's Beerflex DDS, marketing platforms and cask/keg suppliers. See our integrations page for more details and all the options available to you.
Want a taste? Join today.
Breww on the move…
Breww is as happy running in your phone's web browser as it is running on your desktop or tablet. Because the entire application runs through your web browser, we support all modern phones & tablets, Windows, macOS, Linux and more!
Breww is always up to date, there's nothing to sync between devices and we take care of installing updates safely behind the scenes for you.
Finally you can forget about your software hassles and concentrate on brewing the best beer around.
With our native app for Apple iOS & Android devices supporting built-in barcode scanning, you don't even need to buy a barcode scanner. Search your app store for "Breww"!
Get Started Now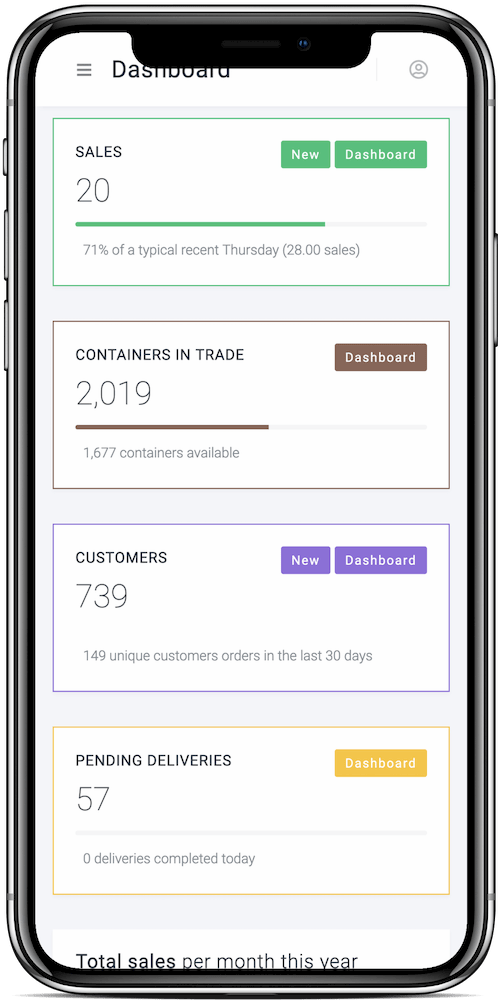 But that's not all… There's so much more to Breww than we can show here.
Hop on a demo today to see what else Breww has to offer.